Pergola Installer Goodwin-Cole Company Inc.
Northern California's Best Custom Pergola Fabrication and Installation
Goodwin-Cole Company, Inc. World-class design, manufacture, and installation since 1888.
Northern California's Pergola and Patio Cover Expert.
Italian designed, Gennius, by KE. Bioclimatic Pergolas will protect and enhance your home's open space. Our louvers are climate-controlled, providing you with a cool and comfortable environment. You'll be able to immerse yourself in the fresh outdoors at the perfect temperature.
Our louvres will protect your outdoor spaces from the sun's rays, and your home, garden, or terrace will be protected from winds and strong breezes – especially when the weather surprises you with a rainstorm. We've designed our bioclimatic pergolas with adjustable louvers that are flexible enough to be used in any situation, so you can always be at ease.
The Kedry line of pergolas are a flat waterproof structure with louver blades designed to install as a freestanding unit, attached parallel or perpendicular to wall, or as a roof module to an existing sub-structure.
The structure differs from the classic product Gennius for the roof structure with the flow of water in gutters around the perimeter.
The columns are perfectly square, the eaves and roof system make the
Kedry
extremely compact and aesthetically beautiful.
Kedry Prime line of bioclimatic pergolas.
Kedry PLUS A line of bioclimatic pergolas.
Kedry PLUS T line of bioclimatic pergolas.
Goodwin-Cole is a KE Pergola Installer.
Freestanding Pergola.
The powder coated aluminum framework has swiveling louver blades designed to ensure optimal resistance against the elements. The operation is driven by a sturdy and powerful linear motor and with the system designed to fit any kind of patio, terrace, or outdoor space.
With a unique additional channel design in the louver blades with added rubber gaskets, the tight water seal ensures that no rain drops or trickling of water will fall on you or your guests upon opening or closing of the blades.
Automation capabilities are available for the louver blades through wind, snow, and rain sensors.
Maximum width dimensions on a single unit up to 13', projection up to 26'.
Units over 19'8" will require additional column supports.
Available as freestanding option and can be installed attached to wall with front legs or as top section only on existing pergola
The KEDRY can be closed all around through either side with screens, zippers, or windows.
Goodwin-Cole, Northern California Pergola Builder.
Appreciate the perfect balance of nature's smallest details every day of the year.
Modern Italian designed pergolas and patio covers, Gennius, by KE. Fabracated and installed by Goodwin-Cole Co. immerses you in the outdoors, allowing you to enjoy all the best aspects of open-air life.
Solar rays are comfortably filtered thanks to the customizable inclination of the slatted sun shades while the pergola lets in a light breeze that is always just right. If the weather surprises you with a sudden rain shower, the adjustable bioclimatic pergola quickly provides protection.
Whatever the weather, our modern bioclimatic pergola with its adjustable slats delivers a pleasant and relaxing space.
The strength of the aluminum and the motor's power to move the sunshade slats blend into the streamlined and refined design, perfectly complementing both contemporary and classical architectural styles.
You can choose to create a self-supporting structure that leans against the wall or a roof-only version, all without any need for supporting pillars. In this way, the light becomes the main star of the show in the spaces you create.
Pergola Automation, with Wireless Rain & Sun Sensor
The Rain Sensor is a solar-powered combined rain and sun sensor compatible with Radio Technology Somfy® motorized exterior products, including awnings, rolling shutters and screens. The Sensor is completely wireless and uses optical rain-sensing technology to measure rainfall and sends an RTS command when rainfall exceeds the user-selected threshold. The Sensor also utilizes a sun-level sensor that sends an RTS command when sunlight exceeds the user-selected threshold.
LED Lighting
Integrated low voltage dimmable lighting can be hidden in a fabric pocket formation in the cross-beam profiles also controllable with the mobile app.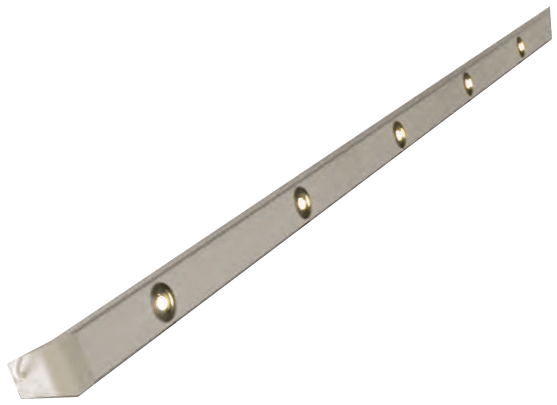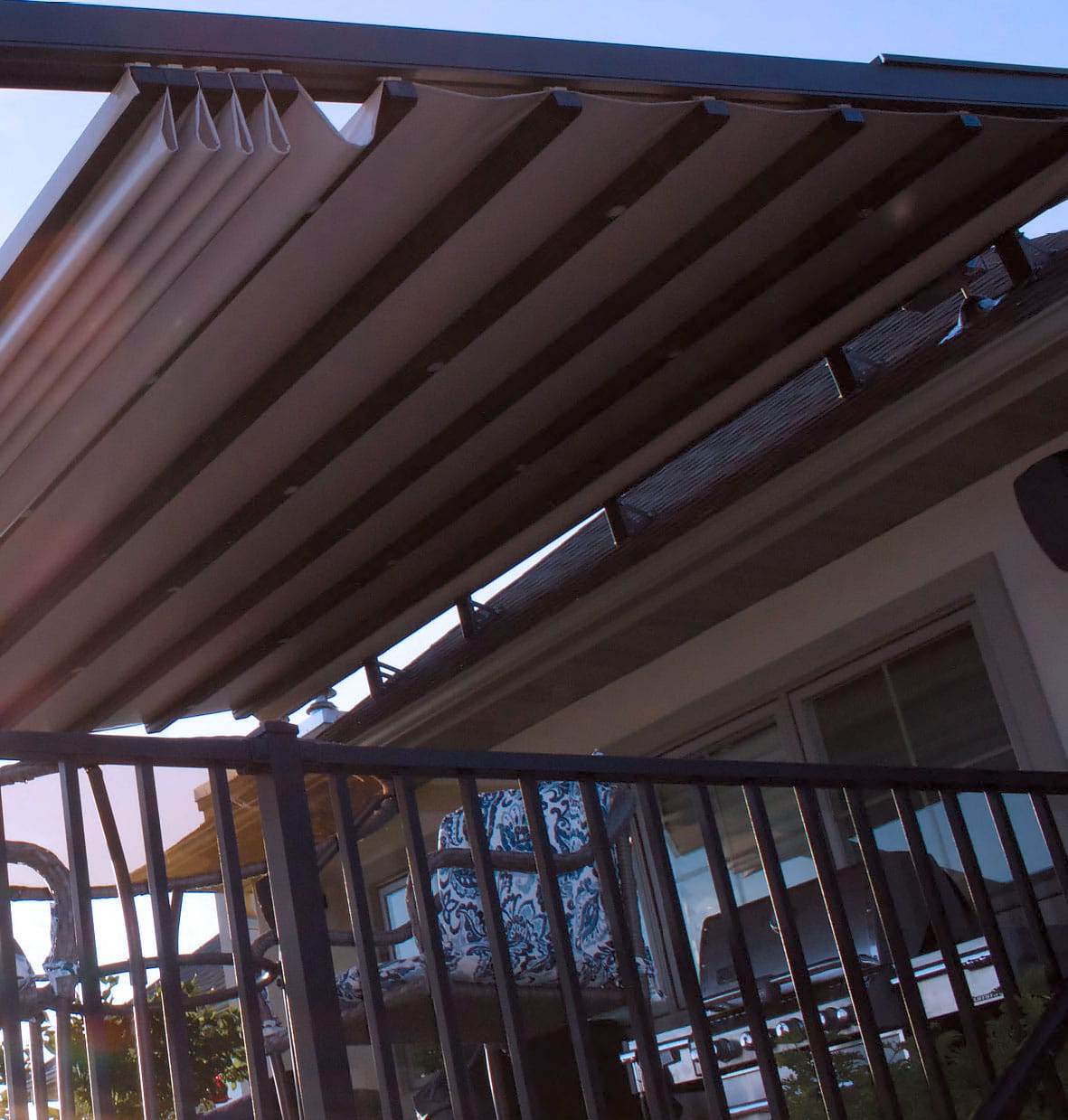 Pergola with an open retractable canopy.
Pergola Control App
With the touch of your screen the roof can go from fully shut to open. It's the ultimate shade/cover convenience.
Rain or shine, hot or cold, our Convertible Roof makes any outdoor space a year-round outdoor living area that's perfect for entertaining or relaxing.
Glass Screen Option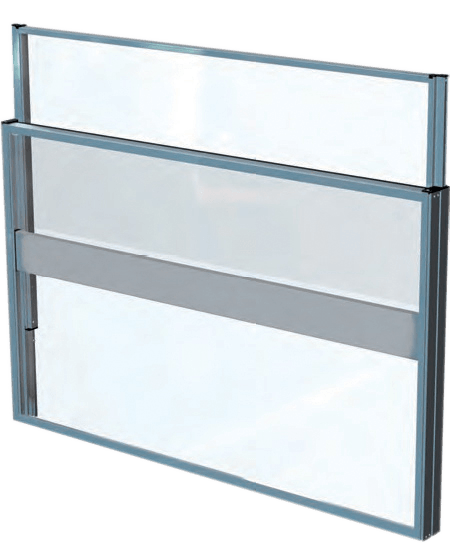 Shelter from all the hassles of outdoor living. Cold winds and harsh weather are just some of the elements that distract us from relaxing in an outdoor environment. The Glass Screen adjustable windscreen protects against these elements, making outdoor living more comfortable and enjoyable. This adjustable windscreen provides an atmosphere and enjoyment for outdoor relaxation.
Glass Screen Features
Height Adjustable
Lock Option
Aluminum Frame
Laminated Glass
Ground, Corner, or Wall Attachment
Custom Color Options
EASY to RAISE and LOWER because of counterweights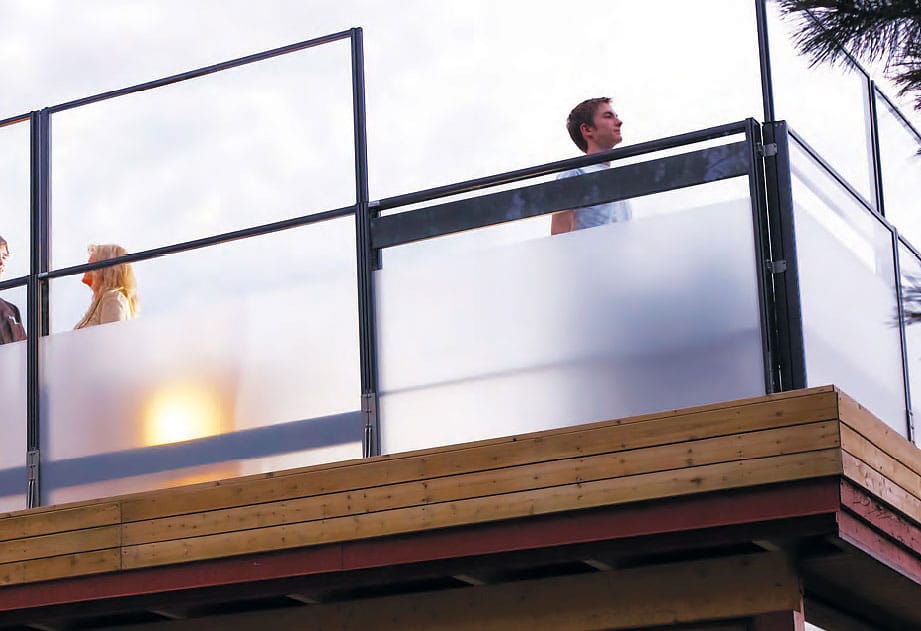 Pergola Frame Colors
The following frame colors are available on the A2C, A2C (Single Freestanding, A2C (Double Freestanding), A100, and T1. *The Isola 2, KEDRY, and Vega are only available in White or Charcoal colors.
White
Charcoal
*Sand
Wood Frame Colors for L1S
Impregnated Dark Walnut
Impr. Semi-Glossy Mahogany Wood
Special Structures
Non-standard structures are available. Please contact our technical department for feasibility of non-standard configurations.
These are some sample configurations.
With overhang
With overhang
---
Cantilever T4
With overhang and protrusion
---
With overhang and protrusion
Slanting
---
Slanting
Modern Pergola Gallery & Inspiration
Design the Perfect Pergola, Patio Cover
Serving Northern California: Goodwin-Cole's experts can answer all of your questions and assist you in determining which pergola design best suits your needs.