KE · T1 Gennius
Retractable Pergola Awning
Retrofits existing structures no need for additional posts.
T1 Gennius – The aluminum guide rails extend horizontally, supporting the fabric and keeping it sealed for water management when projected. This retractable awning was designed and engineered to handle inclement rain.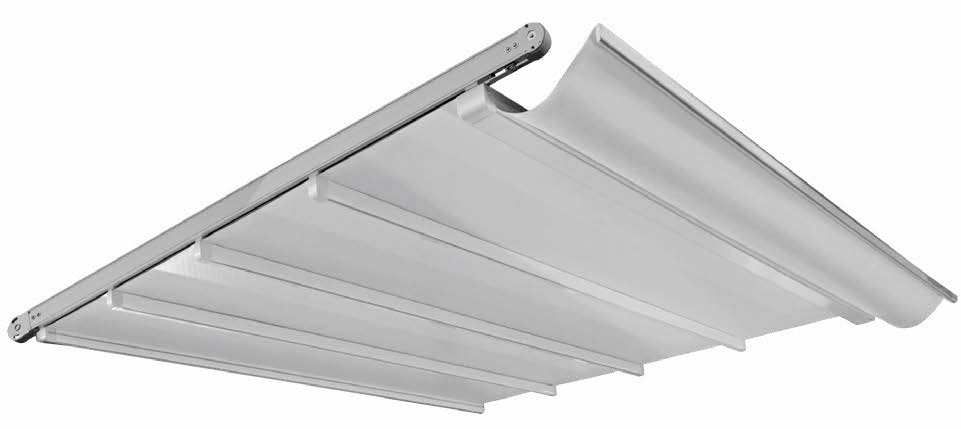 ---
T1 Gennius Details
Shade and rainwater protection
Canopy slope essential for the proper management and removal of rainwater
Motorized operation with remote control
The optional hood protects the motor assembly and keeps debris from collecting in the folded fabric when retracted.
---
T1 Gennius Technical Details
Sun resistance

EN13561
Beaufort
Scale
Wind Speed
(mph)
Level
Class 1
4
13-18 mph
Moderate
Breeze
Class 2
5
19-24 mph
Fresh
Breeze
Class 3
6
25-31 mph
Strong
Breeze
Class 4
7
32-38 mph
Near
Gale
Class 5
8
39-46 mph
Gale
Class 6
9
47-54 mph
Strong
Gale
Class 7
10
55-63 mph
Storm
Class 8
11
64-72 mph
Violent
Storm
Class 9
12
73+ mph
Hurricane

Maximum width: 42′8″

Maximum projection: 29′6″

Tested and certified CE

Home Automation
---
Introducing T1 Gennius, a remarkable Retractable Pergola Awning manufactured by KE, in collaboration with Goodwin-Cole Company, Inc. as the trusted fabricator and installer.
The T1 Gennius features aluminum guide rails that extend horizontally, providing robust support for the fabric and ensuring effective water management when projected, making it perfect for handling inclement rain. This retractable patio cover awning is designed and engineered to withstand intense weather conditions.
Suppose you already have a pergola or trellis in place. In that case, you can easily enhance it with the T1 retractable patio cover, complemented by an aluminum guardrail, expertly installed by Goodwin-Cole Company, Inc. With no need for additional posts, the possibilities for customization and design are unlimited.
Count on Goodwin-Cole, with their 100 years of experience since 1888, to work closely with contractors, architects, and business owners to bring this unique commercial shade project to life. Goodwin-Cole Company, Inc. is your reliable one-stop solution from design to installation.
KE and Goodwin-Cole Company, Inc. offers a winning combination of innovation, quality products, and expertise, ensuring the best retractable awning for your outdoor space.
Design the Perfect Pergola, Patio Cover
Our team of local experts is at your service to address any inquiries you may have and guide you in crafting the perfect pergola design.
(H) Guide support
(B) Moving electrical control
(I) Supporting motor crossbar profile
(D) Main sliding guide
Packaging retractable awning, in fabric made fixed to crossbar profiles, trolleys, and guides system, which permits horizontal sliding (tight when opened). The movement can be manual with a reduction winch (only on the single module up to 3 mts projection) or motorized. Guaranteed wind resistance up to class 6 according to UNI PR EN 13561. On request, installing the anti-drop system for rain protection is possible. The resistance under snow weight is not guaranteed.The development of condensation on the fabric is natural and not considered a defect.