KE · Isola 2
Retractable Roof Pergola
Goodwin-Cole and KE proudly introduce Gennius Isola 2 the beautiful, retractable roof pergola system by KE. Minimal design and timeless beauty meet modern technology and reliability. KE continues to provide innovative, industry-leading solutions with new products that help you make the most of your outdoor spaces.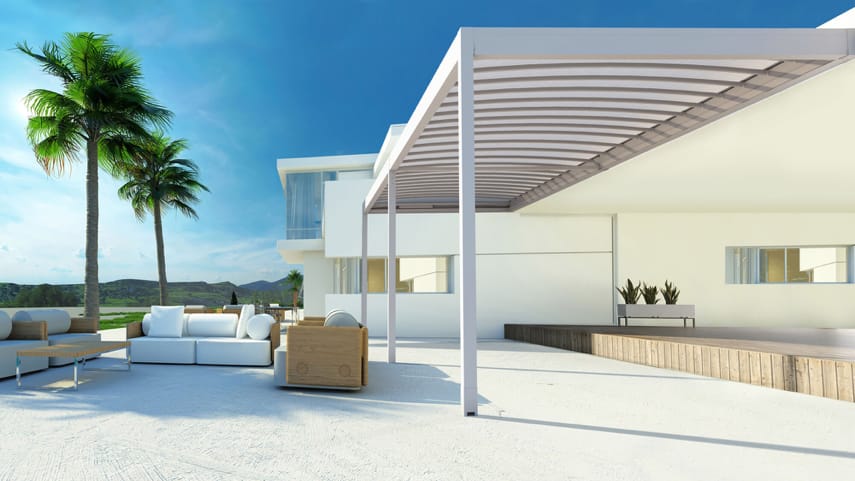 ---
Isola 2 Details
The eaves and roof system make it extremely compact and aesthetic
Innovative design, shaped as a cube
---
Isola 2 Technical Details
Sun resistance

EN13561
Beaufort
Scale
Wind Speed
(mph)
Level
Class 1
4
13-18 mph
Moderate
Breeze
Class 2
5
19-24 mph
Fresh
Breeze
Class 3
6
25-31 mph
Strong
Breeze
Class 4
7
32-38 mph
Near
Gale
Class 5
8
39-46 mph
Gale
Class 6
9
47-54 mph
Strong
Gale
Class 7
10
55-63 mph
Storm
Class 8
11
64-72 mph
Violent
Storm
Class 9
12
73+ mph
Hurricane

Maximum width: 18′0″

Maximum projection: 29′6″

Tested and certified CE
---
Isola 2 Optional Accessories
Music

Lighting

Vertika*


Glass
*Vertika offers various fabrics (transparent, filtering, and darkening) to meet lighting requirements and wind/rain protection.
---
Goodwin-Cole Company and KE proudly introduce the latest motorized retractable roof pergola Isola 3.
Our team of local experts is at your service to address any inquiries you may have and guide you in crafting the perfect pergola design.
Innovation, exquisite designs, extensive product range, and customized solutions; are the strong points of Gennius pergola systems, and KE is thrilled to add the Isola 2 to our family of products. The Isola 2 can be easily adapted to any space and can offer protection from harmful UV rays, wind, and rain. Integrated and dedicated perimeter gutters channel rainwater into the corner downspouts for excellent water management.
Isola 2 can be adapted to any space as a freestanding, wall-attached, or top-mounted roof module-only application. Its arched shaped roof on a flat aluminum frame structure allows for overall maximum dimensions, and the sleek design enhances any décor and outdoor space. Moreover, the wide fabric selections for the retractable roof cover and the optional integrated lighting system that can be integrated into the perimeter of the Isola 2 offer a high-end level of customization and personalization that fits each customer's needs. There are also additional enclosure options with drop screens or glass screens as additional protection from the weather.
Take advantage of the latest state-of-the-art automation from Somfy Motors by downloading their myLink® app to your smartphone or tablet, giving you remote Wi-Fi control of your Isola 2. As an energy saver, the Isola 2 suits customer needs year-round. The pergola reduces air conditioning in summer by maximizing outdoor space for comfortable outdoor living.
Our Gennius products undergo vigorous testing and have achieved the CE marking to guarantee their quality. KE guarantees a highly reliable technological product designed to take advantage of the outdoors year-round, enhancing your outdoor experience with style.