Retractable Patio Cover
Shade For Large Decks and Open Areas.
Goodwin-Cole Company, Inc. is a certified installer for the KE Pinnacle One retractable shade system.
The Pinnacle One is an engineered tensioned horizontal shading system with post supports, allowing this retractable awning to shade large open areas. Powder-coated aluminum components are corrosion resistant, and the cassette protects the fabric roller tube with the fabric extending along the spring tensioned belt/pulley design within the guide rails.
The key features include:
Horizontal deployment: The awning is intended to be deployed horizontally, meaning it extends along a horizontal plane. This is suitable for providing shade over a wide area, such as a patio, deck, terrace, or outdoor seating space.

Post supports: The system utilizes posts to support and anchor the awning structure. These posts are securely installed to the ground, providing stability and structural integrity to the shading system.

Tensioned design: The "engineered tensioned" aspect suggests that the system is designed to maintain a taut and stable structure, even when the awning is fully extended. This ensures that the fabric or material used for shading remains wrinkle-free and provides effective coverage.
Potential uses for Pinnacle One include:
Residential outdoor spaces: It could be used to shade a backyard patio, poolside area, or deck, providing homeowners with a comfortable outdoor environment protected from direct sunlight.
Commercial and hospitality settings: The Pinnacle One could be installed in restaurants, cafes, hotels, or resorts to create shaded outdoor seating areas for guests.
Public spaces: Parks, recreational areas, or urban plazas could use this shading system to offer residents and visitors a shaded spot to relax or socialize.
Events and gatherings: The Pinnacle One could be employed at outdoor events, festivals, or weddings to provide sheltered spaces for attendees.
Educational institutions: Schools or universities might utilize this shading system to create covered outdoor spaces for students and staff to enjoy.
Sports venues: The shading system could be applied to cover spectator areas at sports facilities or stadiums, ensuring comfort during events.
---
Pinnacle One, tensioned horizontal shading system with post supports. - Consultation
This is suitable for providing shade over a wide area, such as a patio, deck, terrace, or outdoor seating space.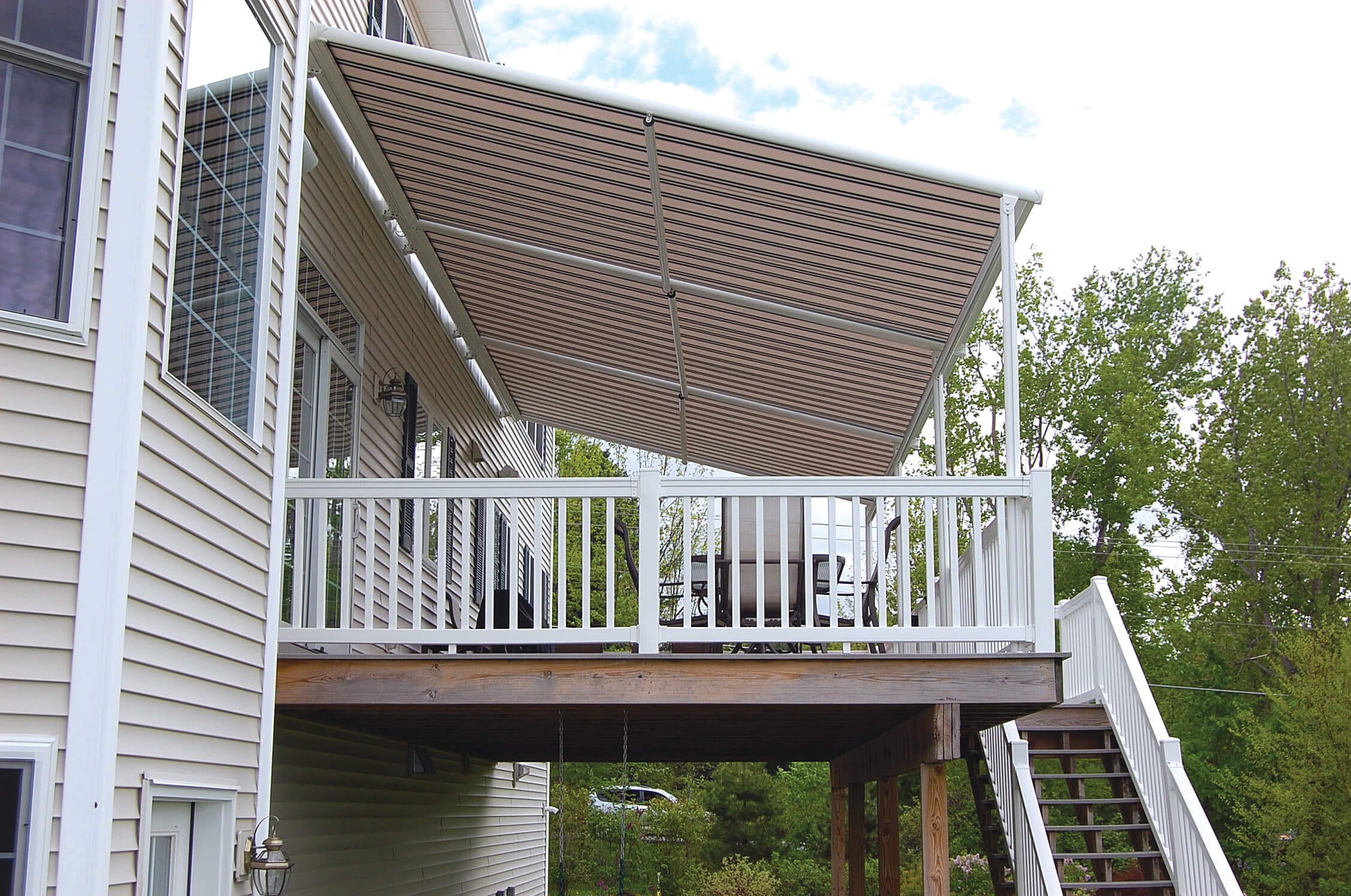 Pinnacle One Product Notes
Unit width is 3' to 16' in 1⁄4" increments and can be joined up to three modules up to 48' width.
Unit projection is 3' to 16' in 1⁄4" increments on all fabrics
Use of a windbreaker bar is mandatory on projections over 10'.
Operation: motorized only.
Mounting options: unit can be mounted level or pitched up to about 30 degrees.
The Pinnacle is measured from the head box to the end caps of the projection extrusion, and the width is measured from the head box end cap to end cap.
The seams for acrylic fabric will run with the projection, like a lateral arm awning; that being said, seam placement cannot be chosen.
Avilable Colors For Pinnacle One, and Pinnacle Two
White RAL 9010
Embracing the Outdoors with the Pinnacle One: A Perfect Collaboration with Goodwin-Cole
Dear Outdoor Enthusiasts,
I'm delighted to share how my backyard underwent a magical transformation, all thanks to a fortunate collaboration with the team at Goodwin-Cole.
It all began on a warm summer day when I daydreamed about improving my backyard. I imagined hosting fun get-togethers where we could all enjoy the sun and then retire to the shade when things got too much. But there was a hitch – my backyard lacked a structure to support an awning. Little did I know that my dream was about to become a reality.
From the first interaction, the team at Goodwin-Cole displayed a genuine interest in my vision. They took the time to understand what I wanted for my patio.
Pinnacle One transformed my backyard into the ideal outdoor sanctuary. I now can access various shade options, whether hosting a spirited barbecue or spending time with my family. The retractable design of the Pinnacle One can adjust to any change in the weather.
So, if you're looking for an outdoor upgrade, I recommend Goodwin-Cole as your go-to partner.
With warmest wishes and sunny days ahead,
Alex