Patio Cover
KE Space - Retractable awning, patio cover designed to fit onto pre-existing structures.
SPACE is a new retractable awning, tensioned shade system product. This elegant awning is designed to fit onto pre-existing structures, perfect for patio cover. It is available in a free-standing version with front support legs called Space Wall and an option supported entirely by a pre-existing structure called Space.
Space can be applied to pre-existing structures
Beautiful LED lighting integration options
Unique design
Perfect patios cover
Elegant, modern tension rollup shade system
Straightforward install
Sun resistance

Wind resistance, light to moderate winds

Maximum width: 23'

Maximum projection: 23'

Tested and certified CE
Widths available for Space and Space Wall: 5' - 23' in 1/4" increments
Projections available: Space 5' - 23' in 1/4" increments
Projections available: Space Wall 5' - 18' in 1/4" increments
Guide rails: Can be adjusted up to 1' 8" from each side of unit
The Space projection is measured from the top of the cassette to the bottom of the side rails, the width is measured from the cassette end cap to end cap.
Operation: motor only
Mounting options: wall with front legs and on an existing structure
Wind ratings: Class 1
Custom colors are not available
Units over 13' projection will have 1 windbreaker tube, units over 20' projection will have 2 windbreaker tubes spaced evenly.
Override motor not available
Units available with strip LED lights, transformer (included) and 24V DC Receiver (optional)
SPACE is equipped with an inspectable cassette, and is distinguished by guides that are adjustable in width to fit well in every situation. Its fabric-wrapping system allows perfect tensioning; as the strip LEDs can be integrated on the guides, SPACE aligns with the most innovative solutions available. Recent improvements include:
It is now possible to reach a maximum of 6 meters in width with two guides, up to a maximum of 4 meters in projection;
It is now possible to integrate strip LEDs in the guides;
It is now possible to also have 80 NM motors and 120 NM motors.
Let's design the ideal drop shades tailored just for you.
Our local experts can answer all of your questions and assist you in crafting the ideal drop screen solution.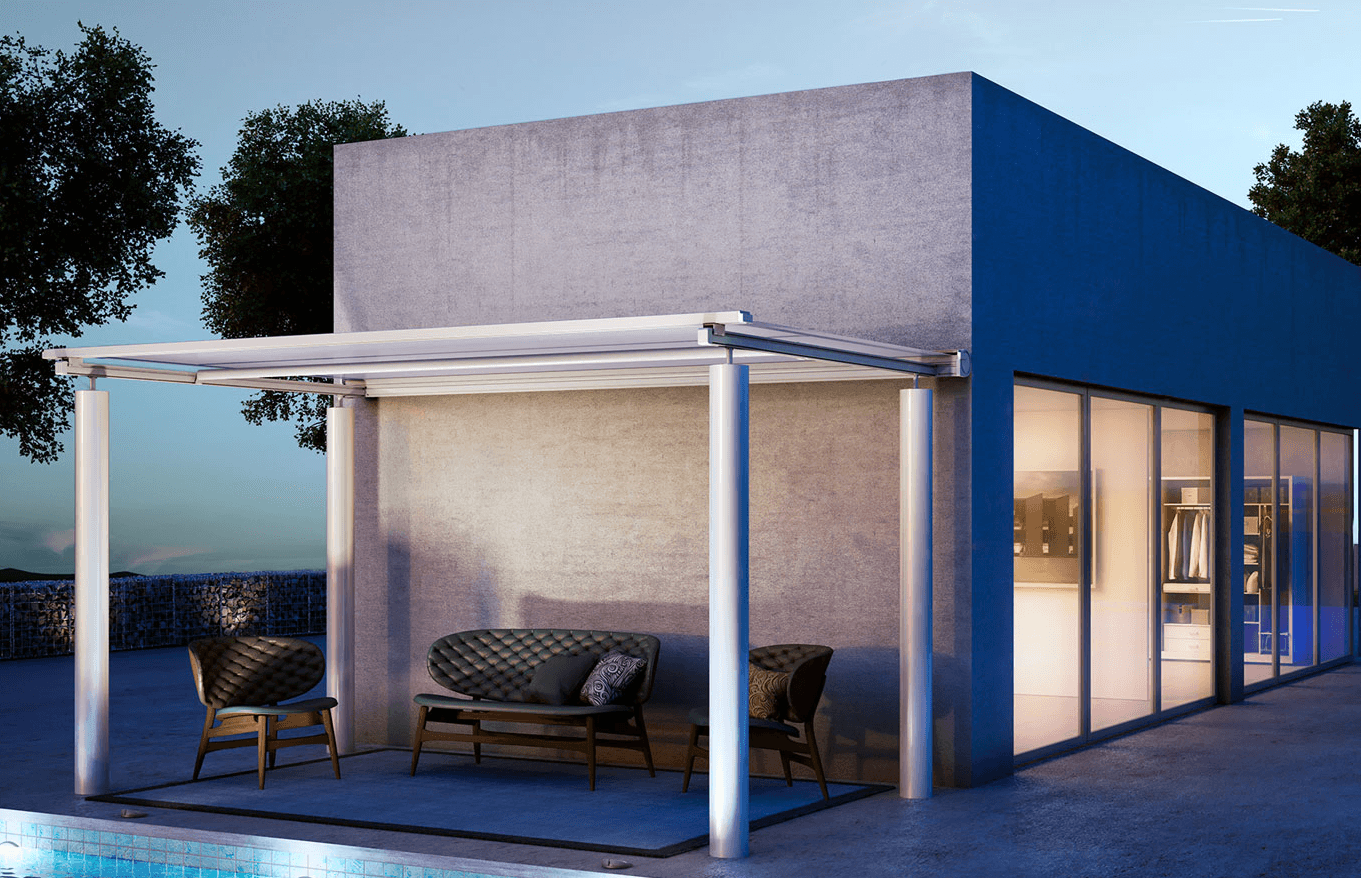 Avilable Colors For KE Space, and KE Space Wall
White RAL 9010
The Perfect Patio Cover, Installed by Goodwin-Cole
Dear Outdoor Aficionados,
When we bought our new house, we were thrilled it included a stunning 18'x20' patio that promised countless outdoor memories. However, we soon realized the intense California sun could be downright scorching. Our patio lacked shelter, exposing us to the relentless sun and risking uncomfortable burns.
Enter the game-changer: KE Space retractable patio cover! We knew we needed a solution to integrate with our patio while offering the versatility and protection we needed. And boy, did this retractable beauty deliver!
This marvel effortlessly stretches over our entire patio, providing ample shade that brings relief even on the hottest days. The sleek, modern design adds a touch of sophistication to our backyard, creating an enchanting ambiance that draws guests in like moths to a flame.
The retractable patio cover boasts an array of next-level LED lighting. When the sun sets, and the stars emerge, our patio becomes a captivating oasis of beautiful illumination. It's like having a private slice of paradise for entertaining or simply unwinding after a long day.
We couldn't have asked for a better fit for our outdoor space; it's as if the patio and the cover were destined to be together. The product's impeccable craftsmanship and attention to detail are evident in every feature, making this investment worth every penny.
A special thanks to Goodwin-Cole we are ever grateful for this extraordinary addition to our home, and we look forward to many unforgettable moments of backyard fun.
Pam