KE • Isola 3
Motorized Retractable Roof Pergola
Goodwin-Cole Company and KE proudly introduce the latest motorized retractable roof pergola Isola 3, it joins the GENNIUS range, perfectly combining elegance and design with flexibility and modularity. Isola 3 can bring maximum comfort to your outdoor space. This aluminum shading structure with retractable folding cloth is available in wall-mounted and free-standing versions; the cloth is fixed to a system of crossbar profiles, trolleys, and guides, and the system allows horizontal sliding and Vertika Prime can be used for side closings. Vertika Prime is an integrated system of drop screens that can seamlessly be applied to all sides of your structure. With an array of fabric choices, including light-filtering, transparent, and blackout fabrics, you have the freedom to create the perfect ambiance.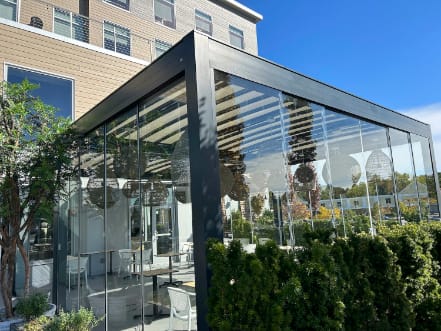 ---
Isola 3 Details
Different configuration options
It can be integrated perfectly into the buildings' pre-existing architecture thanks to its light lines and profiles.
A dimmable, integrated lighting system
Peculiar lowered-arch roof, which reduces the space needed in height and enhances its look.
---
Isola 3 Technical Details
Sun resistance

EN13561
Beaufort
Scale
Wind Speed
(mph)
Level
Class 1
4
13-18 mph
Moderate
Breeze
Class 2
5
19-24 mph
Fresh
Breeze
Class 3
6
25-31 mph
Strong
Breeze
Class 4
7
32-38 mph
Near
Gale
Class 5
8
39-46 mph
Gale
Class 6
9
47-54 mph
Strong
Gale
Class 7
10
55-63 mph
Storm
Class 8
11
64-72 mph
Violent
Storm
Class 9
12
73+ mph
Hurricane

Maximum width: 550cm

Maximum projection: 700cm

Tested and certified CE
---
Isola 3 Optional Accessories
*Vertika offers various fabrics (transparent, filtering, and darkening) to meet lighting requirements and wind/rain protection.
---
Isola 3 Available Colors
Isola 3 stands out for its characteristic lowered-arch shape, which contributes to reducing minimum overall dimensions and improving its aesthetics; these are just some reasons why this new pergola is absolutely unique. It can be installed in two ways, wall-mounted and free-standing, and can be integrated with side shading screens, which can also be completely transparent, or with sliding glass doors.
Isola 3 can be highly customized: it is possible to choose more than 500 different technical fabrics for the all-around closed version; the level of solar gain can be regulated depending on the specific needs of the building on which the product is to be installed, taking the stylistic coherence into account as well. For these reasons, Isola 3 uniquely complements the architecture of buildings thanks to its essential lines and aluminum powder-coated profiles, granting resistance against corrosion and a minimal design.
Isola 3 is an authentic outdoor design element thanks to a light-integrated dimmable system, perfect for creating impressive night backgrounds. Furthermore, Isola 3 can be integrated with optional rain and sun sensors, giving perfect automation and the ideal awning management, easily adapting to every weather change. The choice of when and how the awning must be opened or closed becomes possible just by downloading an app for smartphones or tablets.
Choosing a KE pergola means choosing a design that is focused on people and their habits to create new conceptions of spaces. KE and Goodwin-Cole Company, Inc. are ideal partners able to guarantee essential support for the design of any outdoor space.
Design the Perfect Pergola, Patio Cover
Our team of local experts is at your service to address any inquiries you may have and guide you in crafting the perfect pergola design.