KE · Kedry Skylife Dealer, Pergola Builder, Goodwin-Cole Company, Inc.
Retractable Roof Pergola — Motorized Rotating Louver
Continuous innovation, refined design, and the ability to offer completely customized solutions are the cornerstones of the KE and Goodwin-Cole collaboration. With a broad range of products, this collaboration continues to grow by introducing the bold new KEDRY SKYLIFE aluminum pergola and its innovative, unique rotating louver – retractable roof design.
KEDRY SKYLIFE, designed by KE and expertly installed by Goodwin-Cole. The Skylife pergola employs a retractable, movable blade roof that adjusts light intensity and air ventilation. With a single, smooth movement, louvers rotate and retract simultaneously, providing quick and easy fine-tuning of comfort at the touch of a button.
Ideally suited for residential or commercial settings, KEDRY SKYLIFE, made possible through the alliance of KE and Goodwin-Cole, is designed to perform beautifully, protecting from intense sun, wind, and rain, thanks to its integrated and completely hidden water drainage system.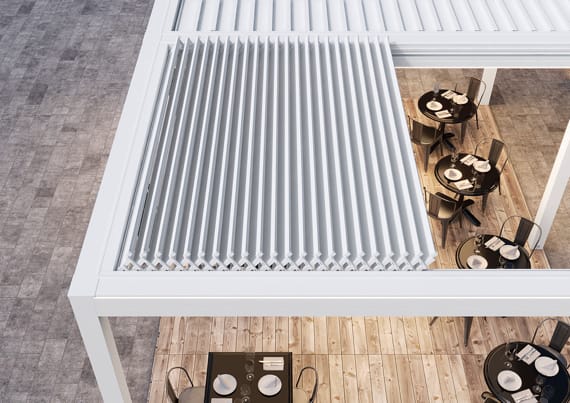 Modular design allows KEDRY SKYLIFE to be installed in multiple units to create an unlimited coverage area, blending gracefully with any architectural style and with minimum environmental impact. Pleasing illumination is provided both inside and outside the pergola thanks to an LED lighting system integrated into the pergola's frame. The simplicity of operation and complete automation is achieved through the use of an app for smartphones and tablets, allowing the user to control and define pergola operation, even remotely.
---
Kedry Skylife Technical Details
Sun resistance

EN13561
Beaufort
Scale
Wind Speed
(mph)
Level
Class 1
4
13-18 mph
Moderate
Breeze
Class 2
5
19-24 mph
Fresh
Breeze
Class 3
6
25-31 mph
Strong
Breeze
Class 4
7
32-38 mph
Near
Gale
Class 5
8
39-46 mph
Gale
Class 6
9
47-54 mph
Strong
Gale
Class 7
10
55-63 mph
Storm
Class 8
11
64-72 mph
Violent
Storm
Class 9
12
73+ mph
Hurricane

Maximum width: Self-supporting module in the dimensions 15' x 20' with 4 columns

Maximum projection: Wall-mounted module in the dimensions 15' x 20' cm with 2 columns

Tested and certified CE
Kedry Skylife Optional Accessories
LED Lighting

Vertika*


NEW Glass sliding windows
*Vertika offers various fabrics (transparent, filtering, and darkening) to meet lighting requirements and wind/rain protection.
Design the Ultimate Pergola
Our team of local experts is at your service to address any inquiries you may have and guide you in crafting the perfect pergola design.
The ultimate pergola with retractable, louvered roof.
Skylife can be configured with various enclosures, including the new Line Glass sliding windows, consisting of an aluminum framework with 10 mm tempered glass panels. KEDRY SKYLIFE can also be enclosed on the sides with Vertika Prime motorized screens: the integrated system of side and front drop-down shade screens. The variety of fabrics (transparent, filtering, and darkening) gives you the desired level of privacy and shade; once closed, the screen disappears completely inside the structure. But that's not all, the structure can also be enriched with decorative draped curtains, a touch of elegance for when you may want a more sophisticated environment. Regarding energy savings, the new KEDRY SKYLIFE bioclimatic pergola has no seasonality: during the winter, it reduces heat loss and allows better control of internal temperatures. During the summer season, the impact of the sun's rays is minimized and helps to reduce overheating of the space, reducing the use of air conditioning. Subject to rigorous tests, KEDRY SKYLIFE has obtained the CE marking, a further quality guarantee. KE's new bioclimatic pergola with retractable blades guarantees durability and high performance. It has been designed for better enjoyment of the outdoor spaces of your home or business, with maximum innovation and aesthetic styling.