Motorized Roller Shades
Vertex Tension Screen, Exterior Solar Shade
The Vertex Tension Screen System by KE takes a slightly different and extremely versatile approach to shade solutions for your home or business. Vertex's design is stylish and sophisticated, while its purpose is completely functional. Vertex motorized screens can be mounted either vertically or horizontally. Horizontally, for example, either above or below an existing glass roof or pergola – or attached to an existing wall and supported in front by two legs.
Vertex works equally well in a vertical application, in a window or glass wall, to provide customized shade wherever and whenever needed. Drop screens can provide even more control of the low-angle sun, increased privacy, and protection from the elements.
Applications include wall or top mounted pergolas, exterior skylights and top-down or bottom-up vertical screening. The Vertex primary applications: homes, businesses, restaurants.
Vertex lets you create shade at the push of a button. And like all KE products offered by Goodwin-Cole, Vertex is custom-made to fit your needs with the latest technology that keeps you comfortable. Contact Goodwin-Cole to learn more about the best Vertex shade solution for you.
---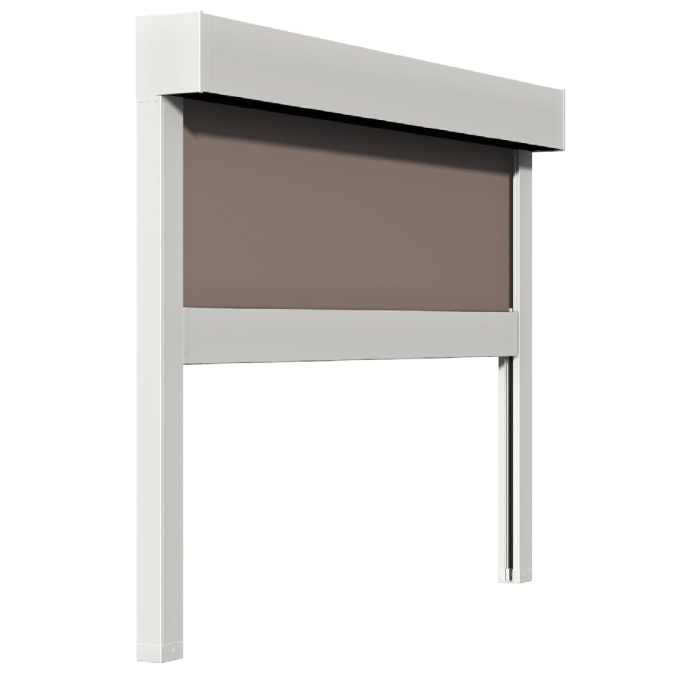 ---
---
---
Vertex Tension Screen Details
Vertex provides increased comfort, functionality, and value to your living space
Optimal performance and durability
Perfect for exterior doors, windows, sliding glass doors, sunrooms, solariums, or anywhere shade and privacy is desired
Tensioned Shade: Horizontal or vertical tension screen system configurations
Better Protection: Zip Track fabric guidance under tension for superior solar and wind protection
Natural Safeguards: Keep the bugs out and other dirt and debris
Square Cassette Hood design: To house the fabric roller and Zip Track fabric guidance under pre-set spring and cord tensioning for more protection from the elements.
Unit widths are 3' to 16' in 1/8" increments for vertical applications.
Unit widths are 3' to 13' in 1/8 increments for all other applications.
Unit drop is 3' to 16' in 1/8" increments for groups 2-5
Unit drop is 3' to 12' in 1/8" increments for group 5A
The Vertex comes as a motorized unit only.
The Vertex can be mounted vertically, on top of a pergola or wall, or using KE front legs.
The Vertex is measured from the head box to the end caps of the Drop extrusion, the width is measured from the head box end cap to end cap.
Unit available with screen fabric only (no acrylic).
Clear vinyl window available on vertical application only.
Vertex Technical
Orientation
Horizontal (optional front posts) or Vertical
Width
Vertical: 3' 0" - 16' 0" (1/8" increments)
Horizontal: 3' 0" - 13' 0" (1/8" increments)
Projections
2' 0" - 16' 0" (zip guides only)
Operation
Motorized
Mounting
"Top Mount Pergola or Wall, Soffit, or Roof with front legs"
Warranty
5 year Framework Warranty
Frame Colors
White, Charcoal, Sand, Brown
Fabrics
Screen Mesh Fabrics
Let's create the perfect motorized drop shades for you.
Our local experts can answer all of your questions and assist you in crafting the ideal drop screen solution.