KE · Gennius L1S
Wooden Pergola
Gennius L1S Retractable Roof Wooden Pergola.
The Gennius L1S model is our "wooden pergola" Gennius, perfect for waterproofing an outdoor area with a retractable roof cover that offers the aesthetics of a wooden pergola. The aluminum framework is clad in Scandinavian Spruce and available in light or dark stains.
This heavy-duty retractable pergola awning was specifically designed and engineered to handle rain.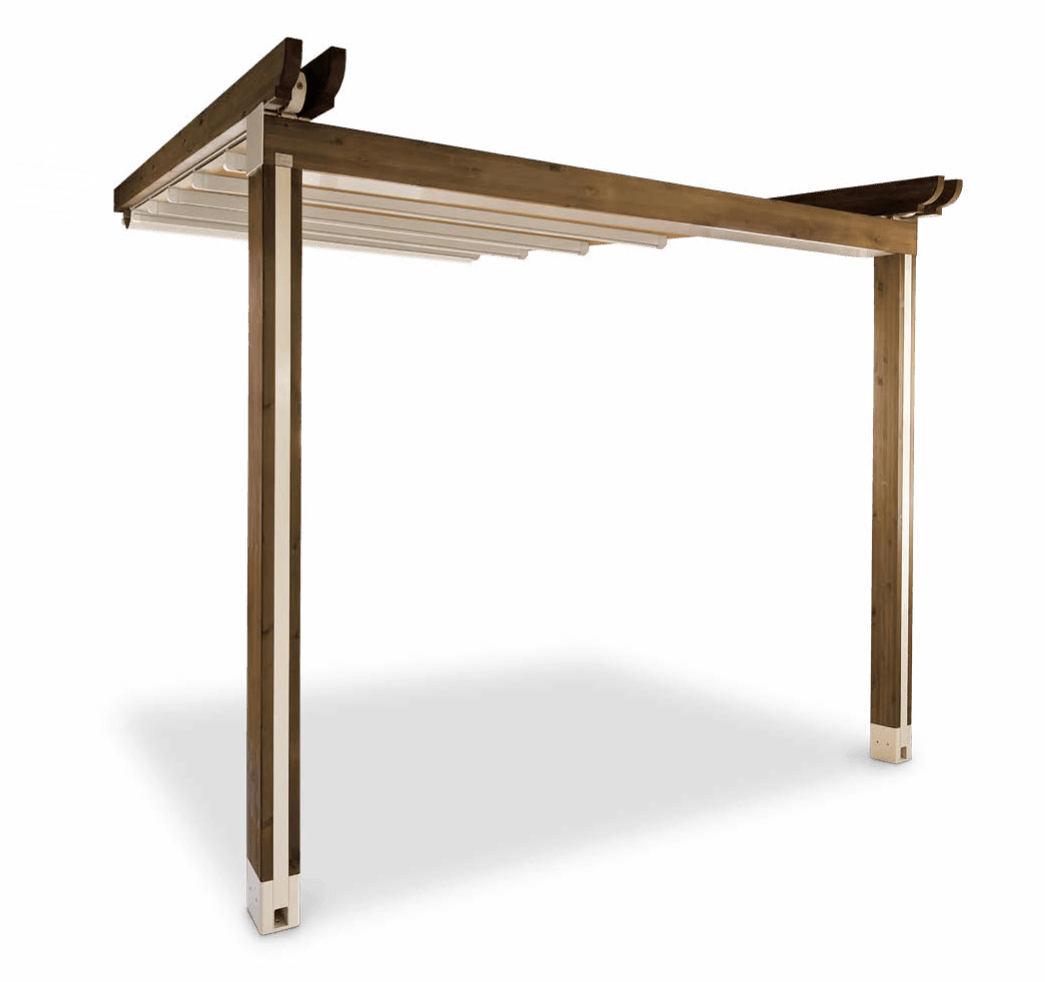 The L1S Gennius guide rail profiles are supported by integrated wood-clad extruded aluminum structural rafters and column (post) framework. The maximum (free-spanned!) projection of this Gennius model is 19'8" with a maximum width of 42'8". That's over 800 square feet of space covered with one motorized fabric roof! Wind resistance is guaranteed up to class 6 in accordance with UNI EN PR 13561. Integrated rain management technology captures rainfall and routes it down the sealed fabric slope into the front-end gutter and the front support posts. The Gennius system has a protective hood covering the fabric when in the retracted position. It is engineered with a special 7-layer aluminum panel that is raindrop quiet and unobtrusive. The waterproof, fire-retardant fabric protects from damaging and uncomfortable UV light and heat and keeps the rainwater off the space it protects.
---
Gennius L1S Details
Maximum width: 48′8″

Maximum projection: 19′8″

Tested and certified CE

Automation: Smart and simple, embrace the ease of modern living with Somfy's user-friendly smartphone app. Intuitive and convenient, it brings the power of automation to your fingertips. Your pergola is now a seamless extension of your lifestyle.
Gennius L1S Technical Details
EN13561
Beaufort
Scale
Wind Speed
(mph)
Level
Class 1
4
13-18 mph
Moderate
Breeze
Class 2
5
19-24 mph
Fresh
Breeze
Class 3
6
25-31 mph
Strong
Breeze
Class 4
7
32-38 mph
Near
Gale
Class 5
8
39-46 mph
Gale
Class 6
9
47-54 mph
Strong
Gale
Class 7
10
55-63 mph
Storm
Class 8
11
64-72 mph
Violent
Storm
Class 9
12
73+ mph
Hurricane
---
Design the Perfect Pergola, Patio Cover
Our team of local experts is at your service to address any inquiries you may have and guide you in crafting the perfect pergola design.
(C) Protection hood
(B) Moving electrical control
(L) Cover guide profile
(I) Supporting motor crossbar profile
(O) Sliding guide
(M) Supporting guide body bolster
(F) Frontal girder
(E) Pilar
(N) Supporting hood crossbar profile
(G) Gutter