Custom Specialties, Design · Fabrication · Graphics
Commercial Canopies from Specification to Fabrication
Commercial Canopies
Goodwin-Cole Co. takes pride in its tent making. Goodwin-Cole Company has been making high-quality canvas products since 1888. We manufacture Tents and Tipis and are proud to say we have shipped our products worldwide. Goodwin-Cole's custom canopies and tents are made to the highest standards with the finest materials in our state-of-the-art factory. Since we are a full-service custom manufacturer, we are able to fill your unique design requirements. We are experts in creating custom commercial canopies and tents for businesses, schools, sports arenas, and notable events. Our custom canopies and tents are rigorously designed to stand up under harsh conditions and last.
Goodwin-Cole's custom canopies and tents are rigorously designed to stand up under harsh conditions and last.
Quality construction with durable fabrics & components
Innovative design for spaces of any size & specific use
Custom built to fit exact specifications
Weatherproof material for years of regular use
Affordable & appealing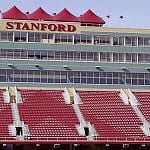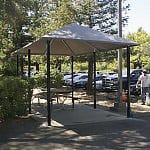 Commercial canopies and tents can make or break your next important event as well as provide several benefits as permanent installations:
Easily brand your business or organization
Create comfortable outdoor space
Protect customers & visitors
Shield outdoor equipment from harmful UV light
Reduce glare for spectator events
---
Canvas and Commercial Textile Sewing and Fabrication with Custom Graphics
Custom Covers
Goodwin-Cole Co. fabricates custom covers, any size, any shape, elaborate or simple. Large to very large and complicated custom covers.
Use custom covers to protect the value of your equipment, boat, and other belongings. We can fabricate custom covers using almost anything including vinyl, canvas, nylon, or Sunbrella fabrics.
We use certified textiles for a healthier environment.
Our most popular textiles are GREENGUARD laboratory certified by UL.
Products that have achieved GREENGUARD Certification are scientifically proven to meet some of the world's most rigorous, third-party chemical emissions standards.
Industrial Sewing Services Custom Item Fabrication
Carry bags
Cart covers
Concrete rail cart boots
Display bags
Dust covers
Engine covers
Fruit fly enclosure covers
Machine covers
Monitor covers
Parking meter hoods
Rack covers
Sales rep sample bags
Straps
Tool kits
Backflow Valve Covers
Protect your backflow valves with insulated wrap covers that fit. We can also install the covers for you.
Bags
Our custom bag fabrication serves diverse industries and applications, including equipment covers for small and medium-sized machines, medical, rolling carts, sales rep bags, bags for sealing storm drains, holding water, grill covers, etc.
Commercial and Industrial Flagpoles
We install Flagpoles, Flags and Banners. We Create Custom Flags, Flagpoles and Banners. Goodwin-Cole supplies and installs standard and custom flagpoles for all applications. We pride use only the highest quality materials and our experienced installers ensure the flagpole meets with your expectations and meets all code and engineering requirements. Please contact us for a free quote.
Banners
Banners can brighten a large mall area or promote a coming attraction—mark seasonal changes with the use of spring, autumn or winter colors. The graphics from the awnings and umbrellas can match the hanging banners. The high electrolier is often the ideal support for your in-house banners.
Tarps fabricated from canvas, vinyl, or technical fabrics
Goodwin-Cole sells Tarps (Tarpaulins). Let us design a tarp out of canvas, vinyl, or technical fabrics that will meet all of your needs. We also carry stock canvas tarps, vinyl tarps, mesh tarps, and sling tarps.
Pitching Mound Covers baseball or softball, protect your pitching mound from rain and the elements. Covers are custom-tailored to your field.
Tarpaulin is a super heavy-duty industrial waterproof material, historically of tarred canvas used to protect exposed objects or areas.
We stock American and California flags
Goodwin-Cole has many colors of flag nylon to choose from and we carry real estate poles as well. Please feel free to call us with any questions or requests.
Real Estate Flags - Draw prospects to your location.
Open House Flags - Pull more shoppers.
National Flags
State Flags
Custom Made Flags - Your logo and colors.