By Sigrid Tornquist – Photos by Rudy Meyers Photography. source
Robert Cole brings decades of experience and common sense to the time-honored but always evolving economic model of supply and demand.
One of the great things this industry has to offer is the quality of its suppliers," says Robert Cole, IFAI Honored Life Member (HLM) and owner of Goodwin-Cole, Sacramento, Calif. "They've kept our industry strong because of their ethical, capable approach to their customers—the manufacturers."
Goodwin-Cole has been producing textile products since 1888 when its products were primarily awnings, tents and cotton pick bags. Now, the company offers multiple custom textile solutions, including awnings and one-off products like the rare rescue tent for California's Mt. Shasta (the 14,162-foot-high peak in Siskiyou County where Cole and his son Dan have been known to hike), as well as metal offerings such as custom ironwork gates and—yes, in addition to fabric awnings—metal awnings.
Change and Survive
It is, quite possibly, the company's—and Cole's—ability to assess the current climate and make changes accordingly that has kept the company not only alive, but vital, growing and successful. And that history of changing to meet consumers' needs goes back a long way—just like the textile industry.
As a 14-year-old boy in 1936, Cole worked for the company's Fresno site, folding cotton pick sacks and driving trucks. (The age for licensed driving at that time in the U.S. was 14.) "The sacks were 10 or 12 feet long, would have a big strap on them, and pickers would sling them over their shoulders and pull them through the fields," he says. "That all changed when the country mechanized, about the same time I came on board as a salesman at the Sacramento site in 1948."
That change in demand for textile products was only one of many that would rock the industry in the West. Tents for migrant workers became obsolete as housing was no longer necessary, and protective coverings for fruit crops in mountainous California climates disappeared with the advent of shipping crops from warmer regions. "As long as you realize the challenges and act on them, you can survive," Cole says. "We established a continuity of business and a reputation that we built on serving the customer. No matter what business you're in, the key factor is service.
Everybody in our company is a salesperson. They may not be doing sales work as such, but they're all salespeople for the company."
But that focus on quality sales that Cole believes in is a trickle-down from suppliers. He points to Glen Raven Inc., Glen Raven, N.C., as the ultimate example of consumer-focused strategies. "I've never known a more productive, finer company that thinks of their customers," he says. "We can count on them not only for a quality product but for service. They take care of any questions clients have, and are one of the great success stories of our country, and our industry."
Cole and his company are also committed to sourcing materials from suppliers in the United States. "We don't import materials from overseas," he says. "We try to deal with suppliers we can have access to, and who provide quality products and service."
Enhancing the Business
One turning point for Goodwin-Cole happened in the 1970s, when the words "energy crisis" made their way into the U.S. stream of consciousness. Saving and conserving energy were of paramount importance, and Cole, among others, recognized the part awnings and shades could play in that endeavor—especially in warm climates. "At that time we found that there were shade products in the market that we didn't manufacture but that were important to energy conservation," Cole says. "We realized that to enhance our business we needed to bring in other product lines."
Everybody in our company is a salesperson. They may not be doing sales work as such, but they're all salespeople for the company. —Robert Cole
Goodwin-Cole expanded its business model by becoming a dealer for MechoSystems Inc., the Long Island City, N.Y.-based maker of manual, motorized and automated solar-shading and room-darkening solutions. "The shades are made by MechoSystems but we do our own engineering and installation," Cole says. "It was an important step for us—getting into shade products that were made by another company."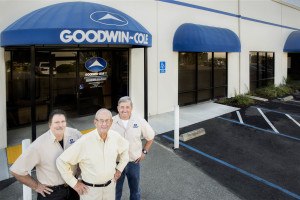 Eventually Cole also embraced the manufacture of metal awnings in addition to fabric, which five years ago opened the door to selling ornamental iron. The company now designs and installs electronic and manual iron gates that function as both a decorative and functional element for residential real estate. "We were searching for products that benefitted our customers and fit with what we were already doing," he says. "We were already dealing with installations at new homes, working with architects and designers, and these additional products fit in nicely."
Leadership Training
Cole believes in sending his employees to any educational opportunity that is relevant to the company's products and processes. From Dale Carnegie's mission and leadership courses to sewing classes to MechoSystems' training, Cole's employees are encouraged to embrace outside learning opportunities. "Wherever we find a relevant class or school, such as the MechoSystems' training, we send the installers and the sales team," he says. "All of our employees are representatives of the company, and we understand that the success of the company depends on them."
As the industry moves forward, Cole is among a small group of business leaders who have seen its peaks and valleys and know what it takes to keep a business afloat and thriving despite shifting circumstances—and he's bringing that knowledge and experience to the table for both his company and the industry. From 1983 to 1985 Cole was president of Canvas Products Association International (CPAI)—what is now IFAI (Industrial Fabrics Association International). In fact, he presided over the debate about changing the name of the association. While some members opposed the change, Cole recognized that a changing industry meant making changes in response, and under his leadership, CPAI became IFAI. Although more than 30 years have passed, it's not really so very long ago in the textile industry.
Day-to-day operations of Goodwin-Cole are now led by general manager Bill Pattison, but Cole is still active as the company's chairman of the board and is keeping a keen eye on industry trends—when he's not hiking in California's Sierra Mountains.